FHS Official School Calendar [2]
=============================
Monday, December 9, 2019
Frederick High School will be having our
Annual Registration Information Night. 
We invite all incoming and current families to come learn about what FHS has to offer. 
This is a great opportunity to learn about the registration process, graduation requirements, Dual Enrollment, Middle College and MORE!!! 
Session Times:
5:30-6:00 in Auditorium - Freshman Information
6-6:30 in Media Center - Dual Enrollment/ Middle College 
5:30-7:00 in Cafeteria -  Electives Fair .
For additional information please call the counseling office at 240-236-7087.  
(Snow Date:  December 11)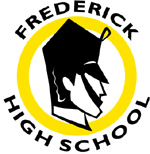 [3]
http://education.fcps.org/fhs [4]
650 Carroll Parkway
Frederick, MD 21701
240-236-7000
Fax 240-236-7015
=============================
The December '19 LYNX newsletters:  
Check back often for Monthly Updates!
  LYNX 2019-2020 Credit by Demonstrated Mastery
=============================
[9]